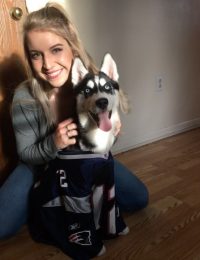 Lauren joined our practice in August of 2018 with a smile on her face and love for learning. She is enjoying working in the medical field – learning something new everyday.
Lauren grew up on her family's Belted Galloway farm, right down the road in Waldoboro, Me! Lauren spent her childhood working close with cows, attending in 4H, and competing with her cows. She graduated from UMaine @ Orono, with a major in Animal Science and a minor in Creative Writing. She was the TA at the dairy class at UMaine while working for her degree.
When not working, Lauren enjoys playing softball or hanging out with cows. She lives in Waldoboro with her boyfriend, Bryan, their sweet & energetic huskies, Blazer & Luna. Oh, and don't forget their adorable, feline friend – Max!