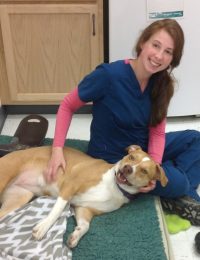 Education: University of Southern Maine
Lauren has been in the Veterinary Field for about 7 years, and has been working as a Veterinary Technician for about 5 years. She started in the field by working several different positions at the local animal shelter. She found her passion working in the clinic and from there enrolled in the Veterinary Technology where she graduated with an Associates degree in Veterinary Technology. Her clinical interests include: Dental Prophylaxis, Hematology, Anesthesia, and Patient Nursing.
Lauren is a Maine native and grew up in the Midcoast area. She and her husband have a small circus of animals including her dog Pepper, two cats – Bernie and Buffy, and two goats (Theo and Carmillo). Lauren loves spending time outdoors with her husband and furry companions.