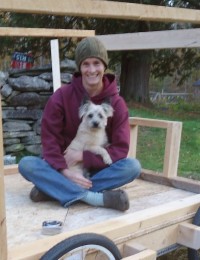 Education: Oregon State University + Connecticut College
Dr. Trafton returned to her native Maine after finishing her clinical year of vet school at Oregon State University in 2008. She earned her BA in Biology at Connecticut College, and prior to moving to the mid coast area, worked in general practice in Kittery, Maine. Her areas of interest are internal medicine, pain management and behavior.
Dr. Trafton's life outside of veterinary medicine includes living and working on a small organic farm with her wife Jessie, daughter Adelaide, son Owen and their three dogs Olive, Oliver and Baxter. She enjoys sharing farm chores with the dogs, practicing yoga, cross country skiing, playing cribbage and reading.