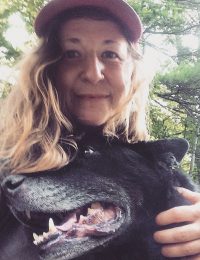 Education: Lewis & Clark College
Pets: Snoop Dogg & Bea
Brie joined our practice in August of 2018 with a drive to learn and can-do attitude. After a life of working with animals (mostly large animals) Brie is very excited to learn the ins & outs of small animal medicine.
Brie was born in Massachusetts and attended the Lewis & Clark College in Oregon, studying international affairs. Shortly after graduating college Brie began working on a farm in Hawaii. She then moved back to Oregon where she worked on a veggie farm and even managed her own farm for a few years before moving to Maine to be closer to her family. She has worked on local farm, Straw Farm located in Newcastle, for 5 years, providing care for the livestock.
When not here at our practice or on the farm, Brie can be found in the company of her two wonderful dogs, Bea & Snoop Dogg, reading books and enjoying her woodstove. Brie is also training Bea, her young border collie pup, as a working dog/herding livestock.